There's no doubt about it; hiring for the manufacturing sector is facing a myriad of challenges, from too few skilled applicants to an environment where women are twice as likely to leave the workforce as men. (Source: Deloitte Insights)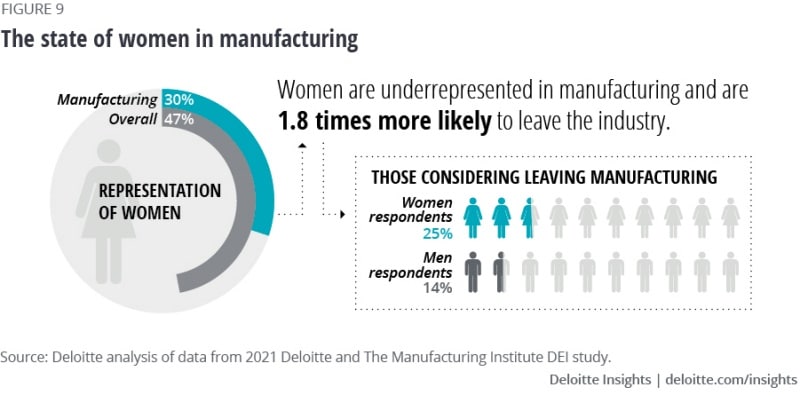 Last week we discussed profiling your manufacturing careers and using your company initiatives in your job descriptions to attract talent. This week, we discuss how your diversity goals - and fulfilling them - will get you ahead of the competition.
We work with and have performed a comprehensive study of most partner platforms out there, so you and your team can be informed where you should post and promote your manufacturing jobs to meet your diversity goals. You can find that study here – Reach for Diversity in Your Hiring.
This will give you a clear path to where you may want to market your position to reach your diversity goals and either find applicants with the skillsets you seek or applicants you can train into the positions you require. However, in a perfect world, you will have partnered with someone who leverages volume and relationships to provide some or all of these marketing options at reduced pricing for you.
The last thing I want to mention about marketing your ad, is that you should be adding video to every job description. Our internal statistics show that job descriptions with video receive 12% more views, 34% more conversions from candidates to applicants and stayed an additional 487% longer on the job description, with average time spent increasing from 55 seconds to 5 minutes and 23 seconds.


Does that mean you need to film something specific for each job? Absolutely not. But if you have anything that discusses the people, culture and why folks are excited to work for your manufacturing company every day, that would be ideal. If you don't have anything like that, video about the company itself and its goals/plans/ideals makes a great second choice. We've embedded the second type above as an example - at the very least it gives the applicant some form of idea of how they will be contributing to what the company creates.
Between profiling your job and then leveraging marketing the job to meet your goals, you've frontloaded your position for success. But what happens when you're *too* successful? Manufacturing recruiters say "I don't have time to sort through thousands of applicants!" And they're right. So how do you deal with job marketing success in the manufacturing space? Stay tuned...
Who are we? HireMojo with RecruiterShare is a diverse team of individuals with over 65 years of combined hiring experience. We use our knowledge and know-how to help companies hire faster, easier and less expensively, while utilizing AI and software learning to reduce the amount of time it takes on all sides of the hiring equation. We design tools to help allow you to concentrate on the human parts of hiring – interviewing, negotiating and making the hire. Learn more about HireMojo here. We also design tools to help you expand your team by matching you with recruiters willing to administrate your entire hiring process at a fraction of traditional agencies. Learn more about RecruiterShare here.
Brian Vogel of sensibleHR says:
Like its parent HireMojo, RecruiterShare, is changing the landscape of recruiting. I have referred their services repeatedly to sensibleHR's clients and the level of high-touch service along with the speedy delivery of a premier candidate pool has been nothing short of jaw-dropping. Sure the initial mind-boggling low cost may be the initial hook, but it is the service from the stable of recruiters and quality candidates that drive the loyalty and high satisfaction.