For the second year in a row, HireMojo has ranked in the Top 10 Hiring Platforms at GetApp, a user-testimonial and security evaluation site. Ratings are a combination of user-submitted feedback, while security is assessed by a vendor questionnaire.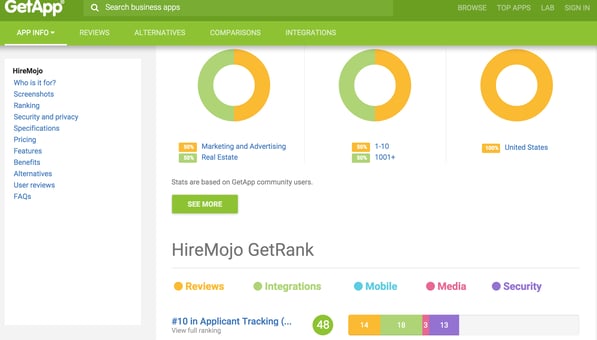 Full Press Release Below; Click the button to see why the industry is abuzz about our disruptive pricing and methodology for hiring!
FOR IMMEDIATE RELEASE:
For more information contact:
Mark Bohdanyk, Marketing Manager
Ext. 294 or mbohdanyk@hiremojo.com
HireMojo Hiring Platform Ranks in Top 10 at GetApp
San Francisco, CA – 01/23/16
HireMojo, the San Francisco-based startup revolutionizing the hiring process, was announced to be in GetApp's Top 10 rankings for popular HR categories for the second year in a row. Ratings are determined by user-generated reviews, while security scores come from vendor responses to a security survey based on the Cloud Security Alliance Self-Assessment Form. Mobile platform data is captured from Google Play and media scores are calculated using the number of Facebook followers and Twitter fans per vendor.
"Our gaining traction signifies our commitment to helping companies hire great people in a significantly easier way," said John Younger, President, CEO & Mojo Master of HireMojo. "The SMB marketplace has more and more demands placed upon them – and we have found a way to simplify and automate the pain points that many hiring managers and people working with the hiring process have difficulty working through."
About HireMojo
HireMojo offers expertise in implementing technical solutions to hiring and hiring process needs and is a leader in helping small to medium business partners hire better candidates, faster. HireMojo provides its flagship hiring platform that includes fifteen years of hiring big data to help users create better job descriptions based on success analytics, automates the job posting process using Smart Job Marketing to thousands of premium and free job boards, as well as social media. The platform also interviews, scores, ranks and manages your applicants through the entire hiring process, allowing businesses to focus on qualified candidates, all for one flat fee – less than the cost of a single premium job board posting. For more information, visit http://www.hiremojo.com
XXX